Steel & aluminum: Light-weight and easy to install
High-quality steel and aluminum ceilings are impressive, individual eye-catchers and are easy to implement.
Discover systems that add new dimensions to spaces, in the truest sense of the word. Whether in offices, hotel lobbies, hospitals, clinics, stores, sports and swimming pool halls, auditoriums, theatres, airports or railway stations: KÖNIG panel modules are particularly convincing as processing comfort, economy, design and environmental impact are concerned.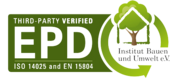 The IBU (Institute/Registered Association for Construction and Environment) is the only German organization that certifies consistently according to the international valid standard.
Consulting & service
Forms & colours à la carte: Versatile variants
Architects and contracting authorities/developers have the choice:
Thanks to the many forms, colours and materials, high-quality interior and exterior ceilings can be realised with individual design requirements.
Lamps of different designs as well as ventilation systems can be ideally integrated.
We use materials aluminum (blank), coloured aluminum, coloured steel and perforated tape with and without acoustic fleece.
Lightness & elegance in aluminum Two systems, many advantages
Both ceiling systems are light-weight and easy to install. The sub-construction is designed so that the panels in various widths can be fitted to the mounting rails.
Type 10 - with or without filler profile:

Open joint 16 mm, closed with filler profiles
Panel widths 84 to 184 mm
Panel height > 12.5 mm
Type 40 - with close joint:

Close joint 16 mm
Panel widths 84 to 184 mm
Panel height > 14 mm
Product range (pdf)
First league: Ceiling systems for special demands
Resistant against pressure and suction load, these ceiling systems withstand highest load requirements, for example in sports halls or underground stations.
Type 35 - Aluminum or steel
Open joint 16 mm
Panel widths: module 100 to 84 mm
Panel height > 25 mm
Smooth or perforated surface is available,
with and without glued-in acoustic fleece
Flying ball impact safety like type 35, according to DIN 18032 part 3 and DIN EN 13964
Corrosion protection: Zinc coating 275 g / varnishing 25 µ on both sides
Class 1A passed
We work closely together!
We will be glad to give you advice!
KÖNIG GmbH & Co KG
Nienhagener Str. 30
D-37186 Moringen
Phone +49 (0) 55 54 / 2 04-0
Fax +49 (0) 55 54 / 2 04-400
Your points of contact