News
Local commitment
08/04/2020
Donation to the Moringen volunteer fire brigade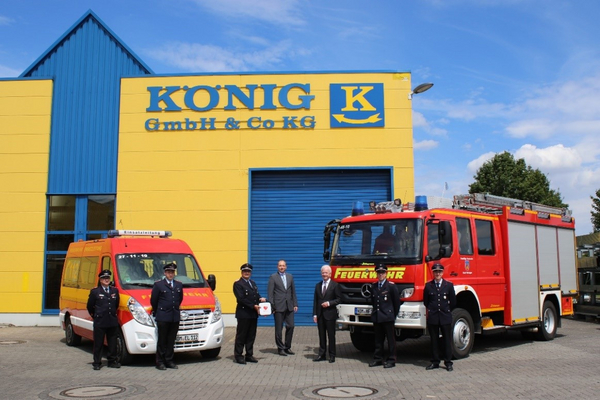 Rescue, extinguish, recover, protect: This is the motto under which numerous women and men work as volunteers in the volunteer fire departments - including Moringen. The KÖNIG Group highly appreciates this commitment and donated 1,500 euros in December for the purchase of a defibrillator. As part of a photo shoot, which could only take place due to the corona, local fire chief Frank Fihlon, together with some comrades, thanked you again for the support.
"With this device, the volunteer fire department can provide even better help in an emergency. We would be happy to promote this indispensable voluntary commitment! "Says KÖNIG owner Gerd-Hinrich Döscher.
A defibrillator is used to treat cardiac arrhythmias by delivering electrical surges. In contrast to defibrillators in clinics, these models are particularly suitable for lay helpers due to their design and functionality.
"Especially in rural areas, volunteer fire departments are often the first to arrive at the scene of the accident. It is good if such devices offer them the best possible support and security. We are happy to be able to support the valuable work in this way, "emphasizes KÖNIG Managing Director Oliver Rokohl.
Back