News
2,000 € for professional school BBS1 Northeim
03/30/2021
KÖNIG donation enables the film and photo studio to be expanded in the business sector
On behalf of all BBS1 students, Elisabeta Matchak, Alexander Ricke and Hakan Özalp are happy about the donation from Moringen. At the turn of the year, the Euro 2,000 went to the European School. Due to the pandemic, a personal meeting with KÖNIG managing director Oliver Rokohl took place on site only now.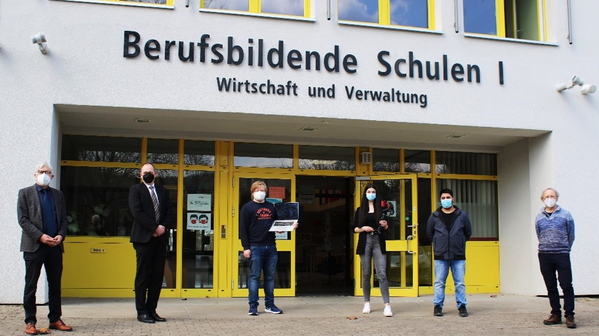 (Photo from left to right: Headmaster Dirk Kowallick, KÖNIG Managing Director Oliver Rokohl, Alexander Ricke, Elisabeta Matchak, Hakan Özalp and Christoph Niklaus, Head of Business Practice)
KÖNIG is thus promoting the expansion of the vocational school's film and photo studio. School director Dirk Kowallick and his colleague Christoph Niklaus, head of the business practice department, are happy about the optimized equipment. In particular, it was possible to invest in a modern hand-held camera stabilizer and a high-performance PC, which enables the students to professionally edit video.
"It is interesting to see how versatile the equipment is used - also by the student companies of the BBS! It is there that important and practical knowledge is imparted for later professional life, "emphasizes Oliver Rokohl during his visit. And he adds: "Promoting creativity and pictorial thinking is more valuable than ever. We look forward to making a contribution to this. "
The high quality equipment is used in many areas. The subject of moving images is playing an increasingly important role in regular lessons. In the marketing department, for example, advertising films are designed and realized. Many students also use the studio to create short video stories with which they make their presentations lively and contemporary. In addition, the school's eBay agency, for example, takes product photos that promote sales. Another team takes professional photos for student ID cards.
For several years now, KÖNIG donation activities have focused on children and young people. Several schools in the Northeim district have already benefited from the financial commitment - and a national project partner every year. At the end of last year, the family company from Moring already donated 10,000 euros to SOS Children's Villages.
Back