News
25 years KÖNIG
08/16/2019
One of our professionals "of the first hour" celebrates anniversary.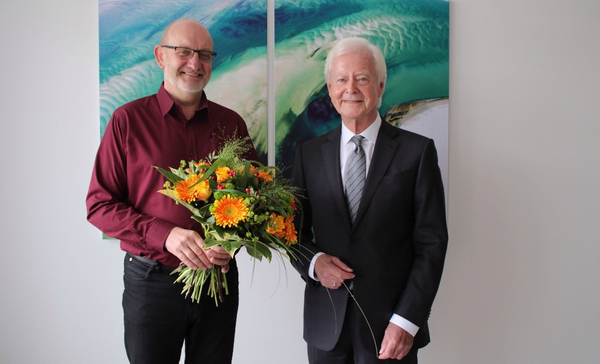 Team Leader Toolmaking, Technical Training Manager Profile Systems and dedicated expert: That's Thomas Severitt, who celebrated his 25th KÖNIG anniversary on 15 August 2019.
As part of a celebration, owner Gerd-Hinrich Döscher thanked for the good cooperation with his longtime employee. And he recalled the expansion in the field of stamping technology and toolmaking, in the course of which a responsible master was sought for this area - and found with Mr. Severitt.
"Especially for you, we built a new production hall in 1994." joked Mr. Döscher in his jubilee speech. And he pointed out, "You are an excellent toolmaker!"
As a trained toolmaker and industrial master, Thomas Severitt has already had good work experience. Today, he responsibly manages KÖNIG toolmaking, including maintenance and servicing. In addition, he successfully passes on his knowledge and experience to the apprentices in the profile systems business unit.
Back