News
Fulfilling heartfelt wishes of sick children
11/15/2018
20,000 euros for Round Table Children's Wish e.V.
Unbureaucratic. Personally. Commited. And 100% honorary. This is Round Table Children's Wish e.V. - an organization with which the KÖNIG Group fully identifies itself.
It was founded by members of the service group Round Table Germany. The goal and purpose is to fulfill the wishes of children and adolescents suffering from a serious illness (as well as siblings) a heart's desire.
As part of the symbolic handover of the "cheque", KÖNIG owner Gerd-Hinrich Döscher explains: "The fact that we are involved in local sports promotion, for example, is relatively well-known. Regardless, we care about the offspring. The good education in the first place, but much more. "
"Unfortunately, many children and adolescents are not lucky enough to be able to play and learn carefree because they are seriously ill. That concerns us. And we are happy to help directly and unbureaucratically, "adds Managing Director Andreas Burghardt. Together, they handed over the symbolic check for 20,000 euros to Jörg Bürmann, the founder and honorary chairman of the association. He emphasized that many wishes would not come true without the support of partners. He added, "We assure that every cent arrives exactly where it is needed!"
So the donation is used exclusively for the wishes of the children. The entire team of the association works free of charge. (For more information see German webiste www.rt-cw.de)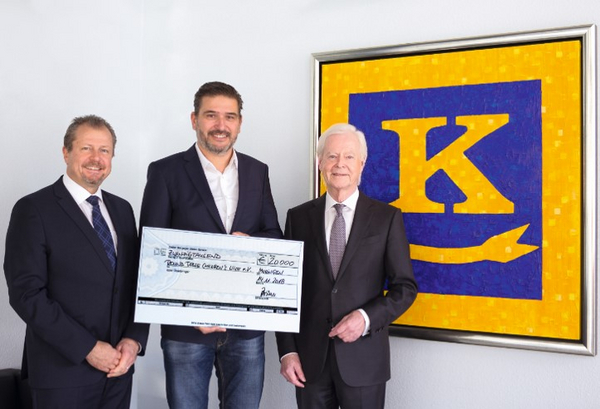 Happiness is the only thing that doubles when you share it.
Owner Gerd-Hinrich Döscher and Managing Director Andreas Burghardt hand over the "KÖNIG-Cheque" to Jörg Bürmann in support of the valuable work of Round Table Children's Wish e.V.
Back