News
KÖNIG promotes education
12/13/2019
10,000 euros for primary schools in the Northeim district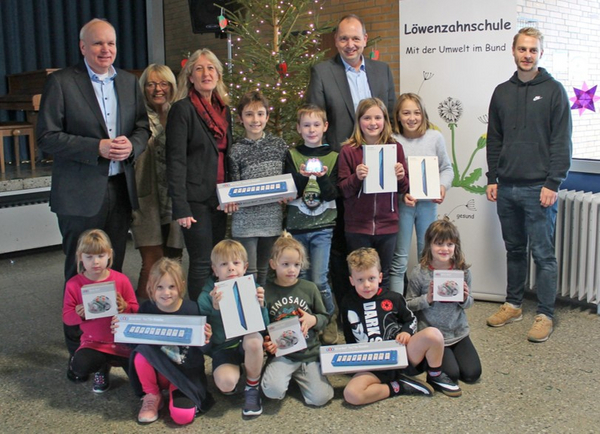 Learn how to program with Blue-Bots© and tablets
Special joy prevailed today in the Moringer Löwenzahn primary school. Thanks to the donation of € 3,000, eight Blue-Bot© class kits and four tablets for the classroom have now been purchased.
These are small robots that can be programmed at the push of a button and via app and tablet. "The Blue-Bot© system immediately impressed us!" Emphasizes managing director Oliver Rokohl. "Children can playfully be introduced to digital technologies through these sets. They develop important skills that will benefit them in the future. "
"The programming of the little bots is a lot of fun and, by the way, it encourages logical thinking and the joy of solution. The kids just become curious about technology. And who knows: Maybe one or the other talent for an engineering career will develop here with us ... ", CEO Meiko Fiedler adds with a grin.
During a visit, the two KÖNIG managers once again convinced themselves of the great commitment of the teaching staff. Headmistress Barbara Ahlf-Dörnte was delighted with the company's sustained willingness to donate.
*****
In addition, the KÖNIG Group donated € 3,300 each year to two other primary schools in the Northeim district. The corresponding projects will be published in early 2020. In addition, the Deutsche Kinderhilfswerk receives the national donation of 15,000 euros. Under the motto "Equal Opportunity for Education", 100 satchels including school supplies and sports bags will be distributed to needy children.
Back