News
No.1: We are EUROBAUSTOFF top supplier 2018!
02/01/2019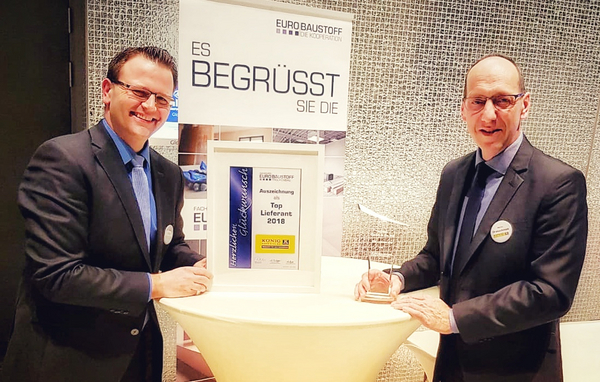 KÖNIG GmbH & Co KG is the top supplier of the EUROBAUSTOFF cooperation in 2018.
With this award, the EUROBAUSTOFF drywall specialist group recognize their best industrial partners. KÖNIG GmbH & Co KG took the first place out of a multi-stage process and once again emerged as a reliable partner. The criteria were in particular product quality, delivery time and logistics, customer service, price reliability and specialized dealer loyalty.
Already in 2016 and 2015, the Moringer company came in second place - 2017 and 2018 were followed by first place. "We are particularly pleased about this continuous award, because it is a direct feedback from our customers!" Says Meiko Fiedler, Managing Director Products.
Our photo shows the two area sales managers André Jäger (in the photo on the left) and Martin Dratschmidt (in the photo on the right) with the current certificate.
Back